We've got all kinds of stuff going on here behind the scenes trying to Must Love God just perfect for you…but we still need a learning curve!!.  Meredith's awesome post, which was supposed to post this am, posted yesterday afternoon.  So if you didn't have a chance to read it, go read it now.  I'll wait, really.
You back?  Inspired?  Totally worth it, right?
So today we decided to add a special bonus post…and link it up with Oh Amanda! – be warned this may be a listastic post, but there are tons of resources for wanting to get well.  So here we go…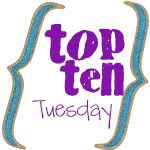 Must Love God's Top 10 Ways to get Well in 2012.
1.  Bible Study – first and foremost this year we want to encourage you to be in the Word.
Doesn't matter if you choose to do Run to Him, Ephesians, B90Days, Read through the Bible in a year, Beth Moore, or Kay Arthur, just get into the Word daily…it will change your life.
2.  Biblical Mindset – My friends at Do Not Depart have a great program for Hiding His Word in your Heart, My friend Lara did a life changing series on the Thought Life, I think a Biblical Mindset is key, not letting Satan have even a chance to get into your thoughts.
3.  Accountability – No one needs to be alone.  Find a friend and exchange numbers to text each other.  Join #hellomorings, #goodmorninggirls, or even start our own here on our forums, just connect, ask someone to keep you accountable!!
4.  Take care of yourself – Now this could be a 10 minute shower or a nice bubble bath with a candle lit.  Don't keep giving of yourself so that there is nothing left of you.  A daily shower (while being one of the most difficult things when you're depressed, I KNOW) can make the biggest difference in your day.
5.  Get Dressed  – now I'm not picturing all of our mustloveGod gals around nekkid…but do you wear your PJ pants or sweats most of the day? (I'm guilty as charged).  Come back tomorrow for an amazing HOT GIVEAWAY just about this and we'll explore getting dressed and how it can change our day.
6. Read Good Books, expand your learning. Here's just a few suggestions, Grace for the Good Girl, Made to Crave, Reshaping it All, One thousand gifts.
7.  Have a hobby.  Crochet, Knit, take pictures, scrapbook, read fiction, play on pinterest even!! Have something that helps you to define yourself outside of family, kids, or job.
8.  Manage time wisely – Be effective with your time.  Do only things that truly matter in your day.  Spend time with people with similar values that will lift you up.  Listen to worship music or podcasts as you craft, cook dinner, and fold laundry.
9.  Food. Jump into the #eatpraylose thread on twitter (it needs some life giving words added to it).  Need help with healthy ideas for family meals?  Look for recipes on pinterest, join WW, download Fitness pal.  Here is something new my family is going to try:
My husband and I are going to journey into real foods this year, eliminating processed stuff for our diet and our boys.  I'll be logging my process on my personal blog, maybe you'd like to too!!
10.  Exercise – you knew this was coming right?  We need to be active in order to be well.  Maybe it's WiiFit or Just dance for Xbox, maybe you join a gym or hire a trainer, maybe it's Couch25K.  If all that sounds too scary or too much, we've invited (and been invited to join her) Clare from Peak313.  Clare is going to be posting with us here on MLG quarterly, but we want you to know about an awesome resource/program she has put together…
Clare has put together printables and has all kinds of goodness to help us get a JUMP start on 2012.  Take a look at her site and see if this is something you'd like to join in.  She's going to be tweeting with #313jump   Let's join her!!
So there you go, top 10 ways to be well in 2012.  What do you think?  Wanna start accountability on our forums?  Want to join 31.3Jump? Need a workout buddy?  Want to learn about Real foods?  Need a Bible study?
Leave your questions and answers in the comments or engage on the board.  We are a community of women getting WELL!!!
And for more top 10 lists visit Oh Amanda.