I mentioned in yesterday's Top 10 list that 2 great ways to get well this year are to get showered and get dressed daily.  I know, I hear you groaning (or was that just me? sigh).  When you are a busy woman, or mom, are tired or sick, depressed or have some reason for not leaving the house it's really easy to well, not get dressed.  I know.  I'm there with you!!!
My trusty sweatpants have seen me through some fat postpartum days, and some way way way post partum days.  But, I feel like for my own health and wellness (and quite possibly my family's happiness) I need to give em up!!  When I've consistently gotten up, showered, done my hair and makeup, I usually tend to have a better day.
I do understand though that with chronic illness or new babies or times when you've just hit the brick wall- there is nothing more comforting than pajamas and fuzzy socks…and we're ok with that here!!  We just don't want it to become a habit!!!
I've proclaimed on my own blog that I have a desire to be a fashionista wannabe.  I really do.  I know when I wear nice clothes (and by nice, er, I mean Jeans instead of flannel pants) I feel more awake, put together, and good about myself.
So here's the problem- what do I wear? (nothing fits right after 3 babies in 3 years….we're on a budget….I just can't go on "what not to wear?"….or can I?)…..
Here's our answer for today: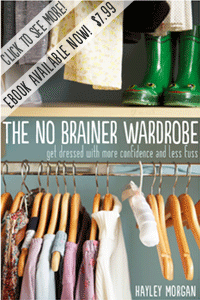 Sweet Hayley from The Tiny Twig just launched a new e-book-

The No Brainer Wardrobe

get dressed with more confidence and less fuss.
Oh, how I love a fashion how to book!!!  And Hayley gives us just that!!!  I had the privileged to review the book with Meredith and here's what she said:
Hayley's straight forward and no- nonsense approach to creating (and finding) the perfect wardrobe is awesome.  I see tips that I can use right now, even while we are on a restricted budget without money for extras.  The section on shopping at thrift stores will be incredibly useful!  And, as a born people-pleaser, being given permission to rid my closet of all of the "guilt" clothes is extremely liberating!
I experienced the same type of liberating feeling and I love how Hayley walks you through the idea of capsule wardrobe, finding signature pieces for certain occasions, and even tips on dressing the plus size body!
If you look at your closet and are all kinds of confused most days….this book is for you!!!  I think it will help you take inventory, work with what you actually have, and figure out what pieces you'll need.  She even shows examples of finding outfits on pinterest and to create them yourself!!
So how about it?  You leaving the house today?  You gonna get dressed?
Hayley is helping the Must Love God Gals out….she is offering a discount code for 50% off for the first 20 readers to use the code
"mustloveGod"
AND
We're giving away 2 copies of this book!!!!!
Leave a comment here on this blog and tell me why you need this book!!
So, get commenting, or GO BUY THE BOOK!!!
 (maybe this could be our new mantra)
We are so thankful to Hayley for letting us review her book.  I know right now getting dressed may not seem to make a big change in the whole scheme of things, but it my own experience I found that my outer laziness was affecting my inner willingness to give each day a shot.  God created me beautiful- and no matter what my shape is right now- HE LOVES ME.  He loves you too.
We need to see ourselves as the beauty He created us, and just by taking some simple steps to care about our appearance is an outward expression of the changes going on in our hearts!!
Again, the discount code is "mustloveGod" and is 50% off for the first 20 buyers.  2 copies of The No Brainer Wardrobe will be given away here…just comment on this post and tell us why you need this book.
The entries will close 1/8/12 midnight and the winners will be announced on 1/9/12′s post.