It is a question we never want to hear asked of us, nor do we ever want to ask it of our dear sisterfriends….but it is a question that we need to evaluate once in a while.
How is your quiet time?
Oh good, enjoying my time with the Lord.
Oh the kids are busy, it's just really hard to get a little time for me.
Nonexistent
No judgment here, just love. But have you ever answered in any of these ways? I know I have. And during any season of life I'm in, I can see how having or not having an effective quiet time can affect my day.
Here are some of my favorite options for getting my Bible Study on:
(remember, I'm not perfect either, I've often answered the question with the answer of "nonexistent")
1. Savoring Living Water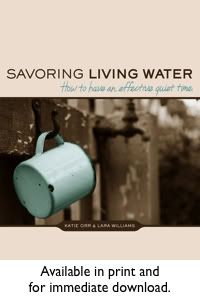 2. Focused 15
3. Inspired to Action/Do Not Depart/Good Morning Girls
4. SOAP notes
5. Podcasts/sermons
6. Worship music
This could be it's own post, (in fact we have some if you click on the resources page).  Using worship music throughout the day is one of my favorite ways to spend time with Him!!
7. Memorization
None of these are affiliate links, just things I've participated in myself that I have found useful on those hard days!!!
The key is- just do it. Make having a time with the Lord a priority, whether it's first thing in the am or at night. Having yourself deeply rooted in God's word is the best medicine for ANYTHING going on in your life!!!
What's your favorite way to spend your quiet time?