You wake up exhausted. Your "restful night's sleep" barely resembled sleep. You get out of bed and you feel an ache.
Maybe it's a headache. Maybe it's a back ache. Maybe it's an emotional heart ache. Whatever it may be, something this morning aches.
Tired achy steps shuffle into the kitchen, and as you lift a tired achy hand to cook a breakfast you're really not in the mood to cook, it happens.
A husband needing lunch now because he forgot he's leaving early today.
A child dropping the dog's water bowl all over the kitchen floor.
A baby screaming with a full diaper saved up for you.
A phone ringing because a bill you paid never made it out of the house.
It happens.
And when it does, temptation tries to sink its teeth into your tired, achy, soul to act like a bee in a bucket.
The thing about a bee in a bucket, is that no matter how hard and fast it flies, no matter how angry it gets and tries to use its stinger to display its anger, the most it will accomplish is simply beating its head (or stinger) against the sides of the bucket.
Over and over.
It will make a lot of noise while it does so. It will sound ferocious, and maybe even the more timid of us will shy away from the bucket, hoping it doesn't tip over. That ferocious sounding bee will not inspire us to lift the bucket and set it free. No. We want to keep it there. With that racket, how could such a creature be trusted outside of the bucket?
Here is the other thing about a bee.
That same bee pollinates the flowers and clover.
I remember as a child always looking for the illusive four-leaf clover, because it would bring me great luck.
Clover of course has other uses, such as being a nutritious option for farmers with livestock. Many farmers with grazing livestock need their clover fields to scatter and reproduce each year, paying to bring bees from bee farms to accomplish this important task.
When bees are trapped in the bucket, they are not out in the world,
and when they are not out in the world, we lose many beautiful things.
Flowers. Vegetables. Fruit.
Even Clover.
A four-leaf clover cannot bring us any great luck.
The bee who pollinates the clover fields cannot bring us any luck.
However, there is ONE who can bring us far more than just "luck."
He brings us Freedom, for He is the one who can lift our buckets, heal our aches, transform our frustrations, and send us out into the world.
(We pray) that you may be invigorated and strengthened with all power according to the might of His glory, [to exercise] every kind of endurance and patience (perseverance and forbearance) with joy, ~Colossians 1:11 (AMP)
Sometimes, I'm the bee in the bucket.
A friend recently shared the above verse with me during one of my bee in the bucket moments, and it spoke some truths to me about His Glory, and what He is capable of.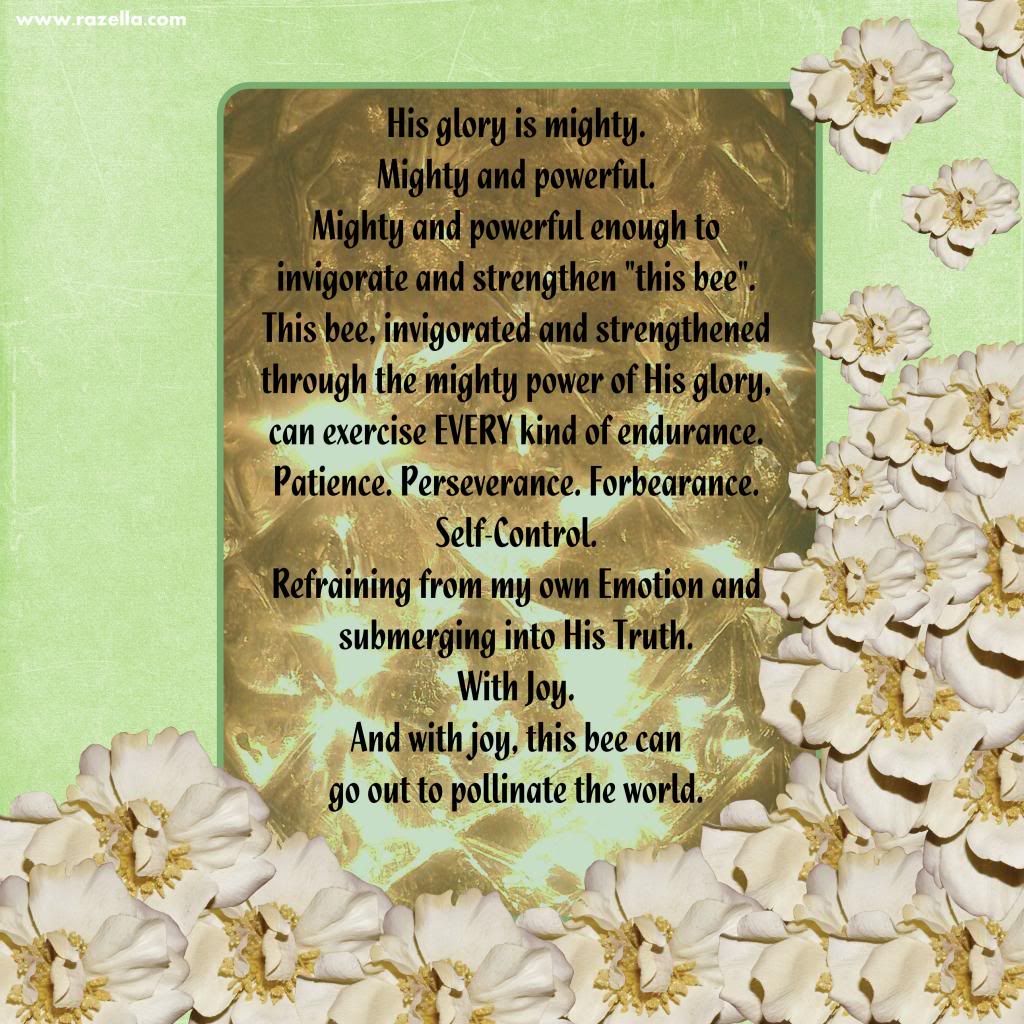 It doesn't happen because of what I do. It doesn't happen because of luck. It happens because of who He is.
It happens because of His power, His grace, His love, His strength,
His promise to transform us.
We take our tired aches to Him, so He can give us what we need.
Rest. Comfort. Hope. Strength.
And then we persevere to spread our wings,
and pollinate the world around us,
so that when it happens,
He can use us for His glory to spread His beauty.
As a woman who is sometimes tempted to become the bee in the bucket, I encourage my sisters in Christ to find that time of rest with Him.
Allow Jesus the opportunity, through His Word, through Prayer, through the Holy Spirit, for Him to heal your aches and by His strength give you Joy to persevere.
Because He wants us to pollinate our homes, our churches, and the world all around us, so that He can bring all of His beauty into every part of our lives.
In Love & Faith,
RaZella